"There are no legacies in this life are there? No monuments, no history, just the water. It pays us, and then it claims us, swallows us whole."
―Gates
Hal Gates was the Walrus's quartermaster, elected representative of the crew's interests, and a check on the power of the ship's captain. Gates was by far the most senior member of the crew; he was initially loyal to Captain Flint to a fault and was very much aware that he was playing a younger man's game.
Biography
[
]
Background
[
]
As a young man he sailed under the command of Henry Avery. His first bunkmate was a man named Cregg, who would later join him aboard the Walrus, the ship that Gates would become the quartermaster of. 
When Captain Flint first arrived in Nassau, he persuaded Gates to help be elected captain of Gates' crew. Afterwards, they captured their first significant prize within four months.
At some point, Cregg was killed in battle with a ship called the Pembroke. Gates went to Cregg's locker and found a letter with instructions to deliver it to his sister in New York, 12 pesos and a broken pocket watch, a bounty far less than the massive stash Cregg had been bragging about. Gates bought a round for the crew with pesos and traded the pocket watch for the services of a prostitute. Gates spent two weeks that winter trying to deliver Cregg's letter to his sister in New York. Despite his efforts, Gates couldn't find her. On the way back to Nassau, Gates waited until they were in open water and he could see no land  in any direction and threw the letter into the ocean.
Captain Benjamin Hornigold implied that Gates had been serving at sea around 50 years.
Season One
[
]
Gates first appeared below the decks of the captured merchantman taking inventory of the goods they had captured. As he walks through the ship, Joshua tries to scare him by jumping out at screaming at him, but Gates just tells him to grow up. The two then arrive at the door of the armory, which is blocked. Behind the blocked door he finds John Silver, standing over a dead body. Silver says that the man couldn't handle the thought of what the pirates would due to him, but he offetd to join the crew of the Walrus as a cook.
Atop the deck, he introduces Silver to Billy Bones, the crew's Boatswain, and Billy warns him that Singleton is trying to take on as many new men as possible, pointing him out as he gives a speech to the surviving merchant crew. Gates then goes to the captain's cabin, where he finds Captain Flint and Dufresne, the crew's accountant. He informs them that they found eight more casks of whale oil in the hold. Dufresne adds this to the tally, and informs the two that the crew will earn a paltry eight dollars a man after injury payments. Gates warns that the crew will not be happy, but Flint dismisses this and directs his attention to Parrish's log, which includes a story about a man named Vazquez in Port Royal, proving that this was the ship they were hunting. Gates points out that the schedule they are searching for has been torn out of the book, rendering their victory moot. Flint insists that this means they are on the right path, but Gates reminds him that this is the fourth ship they've captured where the profits barely exceed the expenses of taking her, and that Singleton is turning his crew against him. Dr. Howell then walks in, and informs them that Duffy died of blood loss after Howell amputated his injured leg.
Back on the deck, he confronts Singleton and calls him out for trying to add more members to the crew who would be sympathetic to Singleton, were a vote against Captain Flint to be called. He asks Singleton about the recruits he plans on bringing on while Flint puts a temporary pause to the imminent torture of Parrish to have a private word with him. Gates asks Singleton if he wants the five men he plans on bringing on for their skills or their votes, and Singleton responds by calling Gates a "cunning bastard" for continuing to have the crew believe he represents them while remaining squarely in Flint's pocket. He then asks Gates if he plans on allowing Singleton the same wide berth he affords Flint once he wins the captaincy. Gates smirks and replies that they'll take the cook, but no more.
At that moment, His Majesty's Ship the Scarborough, a Royal Navy man o' war, is spotted sailing towards them. Knowing they are outmatched, the pirates flee for Nassau. En route, Gates brings the news of Singleton's future attempt at a coup to Flint in his cabin. Flint is shocked, reminding Gates that he assured him that he had placed crew members loyal to Flint in vital spots to guard against such an overthrow attempt. Gates says things have gone too far after three months pursuing Parrish with barely any profits to speak of. Flint is aghast at the idea that the crew thinks Singleton would do better at putting money in their pockets, but Gates tells him all the crew cares is that he isn't Flint. Flint then comes up with the idea to see Richard Guthrie and ask him for help recreating the schedule. Gates is pessimistic about this working, but Flint promises that if this fails, he will return to hunting better prizes. Before he leaves, Gates acknowledges that they both know Flint is lying.
In Nassau, Gates tasks Billy with accompanying Flint to visit Richard Guthrie, the wealthy merchant who fences the pirates' cargo. Billy is surprised to be going with Flint, and Gates explains he has business to attend to in town. He orders Billy to keep Flint in line if his temper gets the better of him, as the last crew that ran afoul of Guthrie was unable to buy or sell anything on the island for two months.
While Flint was away, Gates was tasked with keeping the vote tally on Flint's side instead of Singleton's and to do so he needed bribe money. He visited Eleanor Guthrie at her Tavern and persuades her to give him a thousand pieces of eight to help secure Flint's captaincy. He took the money and went to visit Mosiah the de facto leader of the African members of the crew. If Mosiah and his Africans put all their votes behind Flint, Singleton would lose the election. Gates persuaded Mosiah to back Flint. He did so without paying out the bribe money because he says that the bribe money had already been spent buying and securing 16 other votes in favour of Flint. Convincing Mosiah to support Flint later caused Mosiah to lose his life when word reached Charles Vane, who has been secretly supporting Singleton for his own schemes.
After Singleton was branded a thief and killed, Bones confided in Gates, informing him that the "stolen page" they got off Singleton's body was blank. When Gates and Bones took this information to Flint, Flint told them that while Singleton was not the thief, it was nevertheless somebody on board. When they figured out it was Silver, he escaped the ship, and was followed by Gates and Bones.
Instead of chasing around the island looking for him, Gates figured it would be better to follow Frasier, one of the local appraisers, as he would be needed in figuring the value of whatever gems they used instead of coins. This paid off, and they followed him to Max, who was working as a middleman for Silver. Gates was with Flint and Bones later that night when they finally captured Silver.
In order to fight the Urca, Flint knew that they would need two ships working together. He proposed that Gates captain the second vessel. Though they originally were going to use the Royal Lion, Captain Hornigold's ship, they eventually ended up with Vane's ship the Ranger, along with most of her crew.
During the hunt and subsequent battle against the Andromache, Bones continually approached Gates expressing serious concerns about Flint and his motivations. Aboard the Andromache, Bones found a letter that allegedly implied that Flint was going to betray his men. Gates told Billy not to bring it up while they are in the middle of a battle, as it could undermine Flint's authority.  When they were fleeing the approaching Scarborough, Bones fell overboard whilst he and Flint were working to free some debris from the ship.
Once the Walrus arrived back in Nassau to prepare for their expedition against the Urca, Gates finally confronted Flint
about everything that had been going on, including Bones's death. Flint admitted to him that he was planning on taking an extra share of the Urca proceeds for himself. Gates had finally had enough of his old shipmate. He told Flint that he was going to support him on the mission against the Urca, but after that, they were finished as colleagues. At some point before they set sail against the Urca, Gates confided the truth about Flint to Dufresne. Dufresne suggested that they overthrow Flint and Gates agreed. During the expedition, Gates gave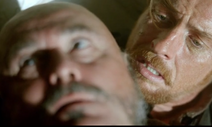 Dufresne a hand written letter wherein Gates admitted his complicity and knowledge of Flint's heinous actions and intentions. When they were confronted by a Spanish Man O' War, Flint demanded that he and Gates's ships fight the mammoth Spanish vessel. When Gates flatly refused and stated that he was taking the Ranger back to Nassau, Flint assaulted him from behind and after a struggle, killed him by snapping his neck. Flint whisper's "I'm sorry" over Gates' body before Silver arrives. Upon seeing Gates' body, he locks the door behind him and tries to move the body, but Flint is defensive and is resigned to his fate. However, Silver convinces him to tell the crew that Gates has died of a heart attack. 
The crew is later defeated in battle by the Spanish Man O' War.
Season Two
[
]
Silver and Flint are sent on a mission to eliminate the mainmast watch on the Man O' War so the crew can board her in exchange for a pardon from the crew. During their mission, Silver almost causes them to be caught by reaching for a Boatswain's Call, causing a Spanish Sailor to wake up who Flint has to kill before he can raise the alarm. Flint threatens to kill Silver for jeopardizing their mission for a "bauble" before Silver explains what it is. Silver then tells Flint that his distrust of him is completely unwarranted, given the fact that Silver has aided and abetted Flint countless times, including when he found Flint with Gates' body.
On the way to Nassau, Flint approaches Dufresne in the great cabin. He tells them that when they first brought him onto the crew, Flint was the one who pushed for him while Gates was opposed, finding that literate men were more difficult to control. Dufresne asked him how Flint convinced him and he says he told Gates that he was tired of being the only one Gates had a hard time controlling. Dufresne is amused by the anecdote, but asks why Flint has approached him. Flint explains that he is tortured over his murder of Gates, and offers to give Dufresne sage counsel as some sort of recompense, and he advises him not to tack east, which would likely cause them to encounter potential prizes. Flint warns him that they are too depleted and undermanned to successfully take a prize, and Dufresne should wait until they're back in Nassau and can take on more men.
After Flint is reelected captain, he briefs Dufresne on his plan to enlist Hornigold's support in taking the gold. Dufresne warns him that Hornigold will ask why the request isn't coming from Gates. When Flint goes ashore, he learns that Vane has taken the fort and goes to talk to Eleanor, who said she made a choice between a bearable evil or a hard sacrifice. Flint then tells her that Gates lost faith in their mission and he had to kill him. Meanwhile, Hornigold asks Silver if he's concerned about the fact that when they set sail, Gates had Flint's ear and Silver was "ballast" and now Gates is dead and Silver occupies that position.
Later, Eleanor approaches Scott and asks for his guidance, having been frightened by the fact that Flint killed Gates. Scott tells her that she has to make the decision herself.
Billy Bones washes ashore in Nassau, Silver takes custody of him and stashes him in a tobacco storehouse. His first words when he wakes up are "get Gates." Silver tells Billy about the events he missed. He tells Billy that Flint took Gates' death extremely hard, and Billy is aghast to hear all of this. Silver further explains that he has realized that a crew needs two type of men to function- one to tell them what to do and and another to tell them why they want to do it. He says that with Gates gone, he took up the latter role. Billy remarks that Silver filled that position after believing that Flint killed both Gates and Billy, and says that Silver is either very dangerous or very stupid.
When Billy returns to the crew, Dufresne asks them how he fell into the water, saying that Gates and all of them assumed Flint pushed him in. Billy says that he lost his footing when they were hit by the Scarborough, and Flint tried to save him.
Before the election between Flint and Hornigold, Billy warns Flint that Hornigold's main point will be that Flint will betray anyone if it suits his purposes, and will bring up the death of Gates in this vein. After Flint wins, Billy talks privately with Flint and tells him that he sided with Flint because he believes Flint is the only one who can lead them through what is to come. He said he won't make the mistake Gates made of turning his back on Flint.
In Charles Town, Flint explains to Miranda Barlow how he chose his alias. He tells her that when Gates first asked him his name, he feared the persona he was about to create. After Charles Vane and his men take over the Spanish Man O' War, he has Billy taken to the great cabin to speak privately. He calls Billy "Mr. Gates' boy" and remarks how he is a "proper pirate."
Season Three
[
]
While the crew is starving in the Doldrums, now quartermaster John Silver laments his inability to stand up to Flint to Billy Bones. He explains that the thing Billy and Gates never understood is that you cannot choose to follow a man like Flint and then pick and choose when to deny him. Later, after Flint executes two men who accused the other of stealing food rations, Billy tells Silver that Gates and Miranda Barlow figured out how to get Flint to listen, the difference was that Flint saw them as his equal, and Silver needs to be viewed in the same light.
Before the Battle of the Maroon Island, Flint and Silver have a discussion. Flint explains his backstory with Thomas Hamilton to Silver. Silver voices his concern that he has stepped up to be Flint's partner, but he has just told him about a third person who was in a similar position to him and that ended up dead, making it more difficult to categorize Gates' and Barlow's deaths as bad luck.
Season Four
[
]
Billy Bones reveals to Governor Woodes Rogers that Henry Avery's Journal is kept in the cellar of the old Barlow Estate. When Rogers retrieves them, he remarks that Flint and Gates were so close that Gates gave Flint his most prized possession, the journals. However, all it took was a "disagreement over a little money" for Flint to kill Gates. Billy explains that there are no two people close enough that nothing can separate them, and the key to defeating Flint and Silver is to find the thing that can separate them, as happened with Flint and Gates.

Personality
[
]
Gates is the most senior member of the Flint's crew, and is very well liked and respected by the men. He possesses a powerful ability to persuade others, which makes him one of the more diplomatic pirates. He is also quite intelligent. When tasked with finding Silver and the missing schedule page, he follows the appraiser, knowing that anyone who tries to sell such a valuable item will request payment in easily transportable jewels and will need the appraiser to make sure the jewels are real.
Gates and Captain Flint form a strong partnership; Gates handles most of the more practical day-to-day business with the crew, while Flint plots and dreams. Although he is loyal to Captain Flint to a fault, he is an honest adviser. He tells him in no uncertain terms what the crew thinks of him and how tenuous his grip on leadership is, frequently calling him out for his actions. He also has a very close relationship with Billy Bones whom he considers to be "like a son" to him.
He is advancing in years, and very much aware he is playing a younger man's game. He views the Urca gold as a chance at a final big score that will let him quit piracy on his own terms.
Trivia
[
]
Gates has a tattoo on the back of his head of the "All Seeing Eye of Providence", which is meant to represent divine providence, with the eye of God watching over humanity. This fits Gates well, for as quartermaster he watches over his crew.
Gates also has "HOLD FAST" tattooed across his knuckles. This is also the title of actor Mark Ryan's biography. It is also possible that this is a reference to the film Master and Commander: The Far Side of the World as one of the characters has the same tattoo and this is a common phrase and concept throughout the movie. It is also a common sailor tattoo, with the hope being that it brings good luck while gripping the rigging.
Gates wears a bandage in some scenes after his meeting with Mosiah. This is explained in a deleted scene where Mosiah makes Gates take a blood oath that he will give extra profit to Mosiah and the other African members of the crew upon the capture of their next prize.
Gates' first name is revealed to be Hal in VII. It is unknown if in this case, Hal is used as nickname, as it commonly is for a number of names.
The spectacles Gates wears are a fairly anachronistic design for the early 18th century.
Memorable Quotes
[
]
"Let me see if I have this right. This is the fourth prize in a row from which the profits will barely exceed the expenses it took to win it. Singleton's out there trying to convince your crew to torture that poor bastard of a captain simply 'cause he hasn't worked out how to get them to do it to you. But all's well because you've discovered that the information we can't tell anybody we're looking for exists on a page...that we don't have."
―Gates to Flint
"My fault. That was my fault. When I said we would need to keep our tempers in check, I failed to clarify that we would need to do so for the duration of the meeting. Entirely my fault."
―Gates to Flint
Appearances
[
]
References
[
]